Obituary for Vera Arzenhofer
Our beautiful matriarch, Vera "Nana" Arzenhofer (nee Hildebrandt), 98, of Milwaukee, Wisconsin, gently passed away on Tuesday, September 18, 2018, in her own home. She was surrounded by her loved ones.

Vera was born in 1920 in Saskatchewan, Canada, into a family of Mennonite, Russian immigrant wheat farmers. She was the eldest of seven children. Her family moved to Florida when she was very young, where they remained until surviving a hurricane in 1927. The family then moved to Milwaukee to join other family already there.

Vera was a life-long learner. She attended school through the 9th grade and then continued on to a trade school one day a week. Throughout her adult years, she took many classes related to her various creative skills and interests: art, cooking, quilting, and sewing.

Vera was a hard worker throughout her life and was a woman who knew how to keep herself busy. "I'm never bored," she would say. As the eldest of seven children, she assisted her mom with the cooking, cleaning, laundry, and watching of her siblings. She started working outside the home as a babysitter at 15, and at 16 got her first job as a domestic worker, caring for two children and helping the family with cooking and ironing. The family had some cherries that needed to be used up, and the wife asked Vera if she knew how to bake a cherry pie. Vera said, "I think I can." The husband said it was the best cherry pie he ever ate, a comment she heard many times throughout her life.

Vera earned $5.00 a week and spent $1 of it on carfare. She also attended vocational school to study power sewing and then got a job at the Hansen Glove Factory, which she unequivocally hated! She later got a job at the Nunn Bush shoe factory where her Uncle Jerry worked as a foreman.

She met her husband, Gottfried Arzenhofer, at a dance club in Milwaukee called The Roof. She said they had a nice orchestra there, and on Thursdays would play a waltz every third song. Gottfried asked her for a dance, which led to their dating. They were married on April 19, 1947.

They were a hard-working couple. Gottfried worked for Schlitz Brewing Company, and the couple owned a series of rooming houses and an apartment complex that kept Vera busy with cleaning and upkeep. They also raised three children together: Richard (from Gottfried's previous marriage to Justine Kuss), Joann, and Mary Ann. While raising the children, Vera also had jobs at Quality Cookie factory and in the Milwaukee Public Schools (in the kitchens), as well as her work with their tenants.

Vera loved a new adventure and to travel. Some of her favorite trips included a train trip with her sisters to California for a family reunion, where they connected with their Mennonite relatives; a cross-country RV trip, also with her sisters (and some of her sisters' pets); a car trip with her daughters and some of her granddaughters to Massachusetts and Georgia to visit two sisters and their families; a senior-travel trip to Switzerland; and multiple summer trips with her daughters to Michigan and senior-day trips. When she told of her travels, the foods she ate and loved were always central to the stories!

Her love of good food, and the appreciation for it she instilled in her family, could be rooted in her own cooking skills. She was an excellent cook, and all who know her have a favorite food of hers. Most notably are her pies (any kind, but apple was her specialty), fruit kuchens, pot roast and dumplings, "thin pancakes," and Mennonite specialties like apfel moos, pluma moos, and twebak. She loved a good meal as much as she was an excellent cook, particularly her sweets, and will always be remembered for wanting, "just a schnibble" of dessert (which would eventually turn into a large portion) and trying "one of everything." Friends of the family frequently comment on how, when the family is all together, much of the talk revolves around discussing and describing favorite meals together (I believe her grandson Brian said we are the only family that is talking about the next meal while we are currently eating one) and foods tried during travels!

Vera's sense of adventure and easy-going spirit remained with her throughout her life. She continued regular overnight trips into 2018 to Green Bay and Madison to help babysit her great-grandchildren and proclaimed that the hide-a-bed and folding cot she slept on, respectively, were "quite comfortable." While relying more and more on her walker, she was still up for a trip through the Farmer's Market, and especially out for a nice lunch or dinner. She was a life-long baseball fan, and even hit a Brewer's game this year with her family. She loved being around her family and watching the little ones!

Vera had a range of activities that kept her busy. She loved to rummage sale and hit the thrift stores. She was a jigsaw puzzle fanatic and easily completed 1000s throughout her lifetime. She was an avid reader, going through several books a week. She continued with her artwork through coloring as she got much older and completed extremely intricate designs. She enjoyed word searches, scrabble, solitaire, and Chinese checkers.

Vera's independence was a source of pride for her and awe for others! She prepared her own meals, did laundry, and kept her home orderly up until the last months of her life.

She is survived by her children: Richard Arzenhofer (Barbara), Joann Sallmann (Joseph, deceased), and Mary Ann Egan (Frank). She is also survived by her grandchildren, Carrie Harper (Dennis), Richard Arzenhofer (Carolyn), Linda Maas (Keith), Lori Flores (Geraldo "Nick"), Jolanda Sallmann (Steven Newton), Joseph Sallmann (Sarah), Jennifer Sallmann (Isaac Nadeau), Brian Egan (Corinne), Andrew "Drew" Egan (John Sentigar), and Eric Egan (Alyssa); her great-grandchildren, Joe, Jessa, Dustin, Allison, Krista, Andy, Sola, Hollis, Makenzie, Josephine "Joey," Christopher, Nolan, and Harrison; great-great grandchildren Lillian, Elaina, Olivia, Peyton, and Addison; as well as multiple grand-, great-grand-, and great-great-grandnieces and -nephews.

She was preceded in death by her husband Gottfried (1986) and all six of her siblings: Evelyn (2018), Eric (1973), Dorothy (2011), Wallace "Wally" (2004), Donna (2011), and Linda (2011).

The family would like to thank Cindy, Diana, Jaimere, Eloise, and Tim from St. Camillus home hospice for their loving care.

Legacy of Love

A wife, a mother, a grandma too,
This is the legacy we have from you.
You taught us love and how to fight,
You gave us strength, you gave us might.
A stronger person would be hard to find,
And in your heart, you were always kind.
You fought for us all in one way or another,
Not just as a wife, not just as a mother.
For all of us you gave your best,
Now the time has come for you to rest.
So go in peace, you've earned your sleep,
Your love in our hearts, we'll eternally keep.

~ Author Unknown ~

The loss is immeasurable, but so is the love left behind. Our lives are all richer because of you. We love and will miss you, Nana!
To send flowers or a remembrance gift to the family of Vera Arzenhofer, please visit our Tribute Store.
Events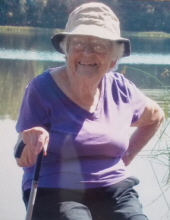 Thank you for sharing your
memory of Vera
Provide comfort by sending fresh
flowers from our local florist.
No thanks, please don't show me this again.